Courting Major League Baseball was a big reason B.C. Place got an air-supported roof.
Article content
B.C. Place turned out to be a terrible place to play baseball, but considerations for the game were at the core of the stadium's design.
Article content
By the end of the 1970s, Vancouver needed a new sports hub, that was clear. Empire Stadium, built for the 1954 British Empire Games, was running out of steam.
Article content
And if you were to build a new stadium, it was only logical to consider future tenants. The B.C. Lions were one. The Vancouver Whitecaps, one of the best teams in the North American Soccer League at the time, was another.
Then the idea of a Major League Baseball team popped up.
"I think one flows from the other," Mike Harcourt, mayor of Vancouver in the early 1980s and then premier of B.C. in the 1990s, told Postmedia last week, ahead of the stadium's 40th anniversary. "If we wanted a baseball team, we had to deal with the weather."
The weather in rainy Vancouver was a massive factor in picking a domed stadium, B.C. Sports Hall of Fame curator Jason Beck said. People may feel nostalgia for Empire now, but a fully outdoor stadium with a large number of seats exposed to the elements wasn't ideal.
Article content
"People had gotten tired of Empire Stadium, going to a Lions or Whitecaps game and getting soaked," Beck said.
But there wasn't a straight line from Empire to B.C. Place. Erwin Swangard, head of the PNE and former managing editor of The Vancouver Sun, wanted to build a new open-air stadium at the PNE.
He called the concept the Multiplex, with a cost of $163.5 million. Vancouver Mayor Jack Volrich also liked the idea.
But Harcourt and his TEAM colleagues on council thought downtown made more sense. Premier Bill Bennett also believed downtown was the place to be.
Just as his father W.A.C. Bennett had made over the rest of the province in the 1950s and 1960s with big projects such as B.C. Hydro's dams, Bill Bennett had a vision to make over downtown Vancouver. He wanted a new convention centre on Burrard Inlet, a world's fair to remake the lands on the False Creek shoreline that Canadian Pacific was no longer going to use for railyards, a rapid transit line … and a new stadium.
Article content
Beginning from almost the day the last interurban tracks running from downtown to points south and east were ripped out in 1958, there was talk that Vancouver and its suburbs needed a restoration of mass public transit.
And with Vancouver winning the right to host Expo 86 — on a theme of transportation, no less — a rapid transit line running from downtown out to New Westminster and then, one day, Surrey, swiftly became more than a pie-in-the-sky idea.
Building a new football stadium near downtown, next to the lands slated for Expo, made too much sense to Harcourt, who was a city councillor from 1973 to 1980, then elected as mayor in 1980.
During his time on council, as plans for Expo began to take shape, Harcourt spoke up, insisting there be a long-term vision for big projects, to take heed of what had happened in Montreal.
Article content
Montreal mayor Jean Drapeau had claimed in 1970 that, "The Olympics can no more have a deficit than a man can have a baby" — only for the Olympics to run up a billion-dollar shortfall, one that wouldn't be paid off until the late 1990s.
"I was opposed to a Montreal 1976 Olympics-type deficit. And the mayor at the time, Jack Volrich, had Vancouver on the hook for 25 per cent of the (Expo 86) deficit," Harcourt said. Bennett's provincial government was also saying that the costs to host Expo would be low.
Harcourt simply didn't believe the figures the province was claiming.
So, once he was elected mayor, he had the city stand up for itself, appointing an all-party committee of George Puil, Harry Rankin and May Brown, running across the political spectrum, to negotiate with Grace McCarthy, the provincial cabinet minister in charge of Bennett's Expo plans.
Article content
The city got a deal they could live with, and a stadium, along with Expo.
So a stadium was coming, which brings us back to baseball. A group headed by Jim Pattison, supported by Molson Breweries, had been laying the groundwork with Major League Baseball.
But April, when baseball seasons start, is rainy in Vancouver. A domed stadium was an obvious need.
Building a concrete roof like the Kingdome's in Seattle would be too expensive, so attention turned to a new idea — an air-supported fibreglass-fabric roof.
The Pontiac Silverdome, home of the Detroit Lions, opened in 1975, the first sports stadium to use the technology.
"The lightweight nature of the fabric made it cost-effective," said Brian Griffin, the long-time operations boss at B.C. Place.
Article content
"With Vancouver's climate, it was state-of-the-art tech at the time. They looked at other designs, but when costs came in, it always came back to (air-supported roof)."
B.C. Place was designed by New York City's Geiger Engineers, who also designed the Metrodome in Minneapolis, which opened two years before B.C. Place, and was considered its sister stadium.
And even though B.C. Place was primarily designed to be a football venue, a baseball diamond did fit, if somewhat awkwardly. The stadium did host a handful of pre-season major league games over the first decade or so of its existence, the last time in 1994.
At that time, the Mariners were considering playing up to 15 games a year in Vancouver. They had struggled since joining the American League in 1977, and the Kingdome wasn't helping.
Article content
The last round of pre-season games in 1994 saw Griffin and his colleagues set up a baseball field that mimicked the Kingdome's layout.
"The only issue was the upper deck in one corner would have stuck out nine inches over the field," Griffin said.
The Mariners didn't end up chasing games in Vancouver and instead got a new stadium, now known as T-Mobile Park. The renovations made a decade ago to B.C. Place essentially ruled out its suitability for baseball.
At one of those early-1980s meetings, Harcourt recalled a conversation he had with then-baseball commissioner Bowie Kuhn.
Kuhn told him that Vancouver and Jacksonville were the two strongest expansion candidates. But he had to get two things sorted out first.
Article content
There were teams struggling financially — despite strong attendance, most were losing money in the early 1980s — and he believed he had to conquer the widespread use of drugs by baseball players.
"He said, 'So give me a little time to fix that,'" Harcourt recalled. Then he chuckled.
"To this day, drugs are still an issue. And so we went out of the running after a while. And yes, (the stadium design) was another one of the reasons. It really wasn't configured for baseball."
A fourth factor might have been Kuhn himself. He was replaced as commissioner by Peter Ueberroth in 1984, ending a 15-year run in charge of Major League Baseball.
At the end of the day, Harcourt figures missing out on an MLB team was probably for the best.
Article content
"Vancouver is too nice to place in the summer, because there are so many other things you can do. It would be hard to get people in," he said.
By the late-1990s, B.C. Place would have been a stadium becoming rapidly out of place in the big leagues. Retractable roofs, steel-and-brick were the design norms. Vancouver's hypothetical team would likely have pushed for a new stadium.
"In hindsight, I think it's a good thing we didn't get a team," Harcourt said.
But as a stadium, it's stood the test of time. It's still the home of the Lions and it's home, again, to the Whitecaps. It's hosted trade show after trade show. It's not a perfect venue but it remains viable.
"It would be hard to top the location, if they had picked a different spot it's unlikely it would have lasted 40 years," Beck noted.
Article content
"Is there a more important sports facility in B.C. history? It's outlived Empire stadium, which lasted 28 years, from 1954 to 1982. Rogers Arena is getting close 30. The Pacific Coliseum is older but hasn't had a  major league team in almost 30 years."
Toronto home to most Instagrammable stadium in Canada

Is the discussion over? BC Place turf gets two compliments inside a week

A look back at highlights and firsts as B.C. Place turns 40
In 1983 B.C. Place opened to the world.
It has hosted some of the biggest names in sports with Grey Cups, NFL and MLB games, NASL and MLS soccer matches, key international games such as the FIFA Women's World Cup, along with the world's biggest music acts, from the Rolling Stones and David Bowie to Jay Z and Justin Timberlake.
Article content
They've also sold a lot of concessional fare.
Here's a look at some of the numbers for the 40 years of events at B.C. Place, based on average event estimates:
• Hotdogs: 2,180,159, which translates to 504,674 pounds. If you laid those hotdogs end-to-end you would get to Seattle … and back.
• Hamburgers: 1,313,927, a whopping 410,602 pounds. Based on the size of the average cow, that's about 2,767 cows to make those burgers.
• Popcorn: 1,782,751 buckets sold, though about 1,700,000 of those were consumed by the media in the press box.
• Draft beer: 6,734,94 cups, that's 2,296,327 litres. Take the Rugby 7s out of the equation and that number drops significantly.
• Bottled beer: 6,365,701 bottles, 2,841,217 litres. That's $636,570 if you got all the empties and returned them to a B.C. Recycling Centre.
Article content
The total of draft and bottled beer together would fill two Olympic-size swimming pools.
Soft drinks: From a fountain machine, 2,381,784 cups or 1,549,632 litres. Bottles/cans, 870,229 units for 467,027 litres. While that's a lot of pop, adding the two together is about the amount of water that flows over Niagara Falls every single second.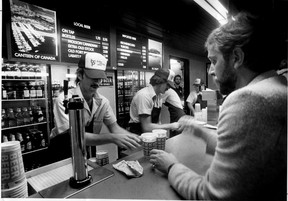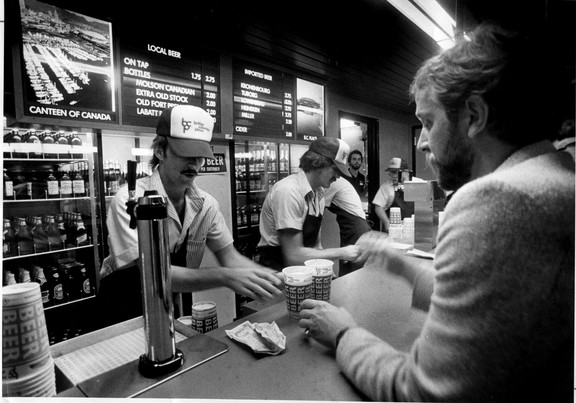 ---
Spring subscription sale: Our in-depth journalism is possible thanks to the support of our subscribers. For a limited time, you can get full online access to the Vancouver Sun and The Province, along with the National Post and 13 other Canadian news sites, for just $40 for one year or $1 a week for 52 weeks. Support our journalism by subscribing today: The Vancouver Sun.